TV & INTERNET | BUNDLE PACKAGES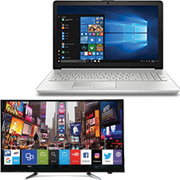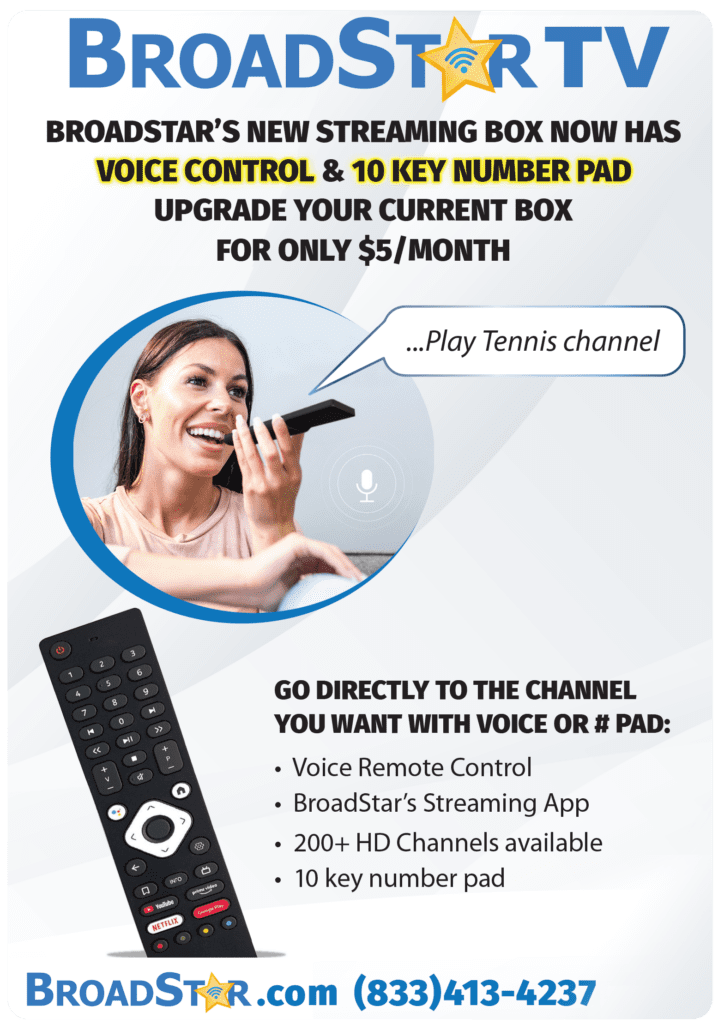 "The Favorites"
Bundle Package
200+ HD/Digital Channels
Up to 2GB Internet Speed
1 Dual-Band Wireless Gateway
2 TV Streaming Devices
Whole Home Cloud DVR
2-Day Live TV Replay
price per month:
INCLUDED
ADDITIONAL WIFI EXTENDERS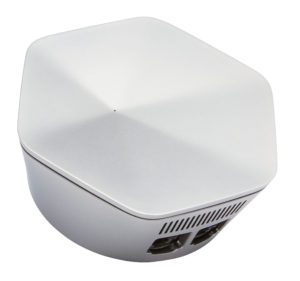 WIFI EXTENDERS
WiFi-6 AX Standard Pod
Up to 1Gig
Extra 1GB Hardline Port

WiFi Extenders

will be charged at the rate of

$5/month beginning 12/1/22 to 12/31/23

, 

and will incur a

$25 installation fee

for the extender.
price per month:
+$10
---
---
(Starting 12/1/22 – 50% discounted pricing with $25 installation fee, discount expires 12/31/23) 
UPGRADE TO A BROADSTAR SET TOP BOX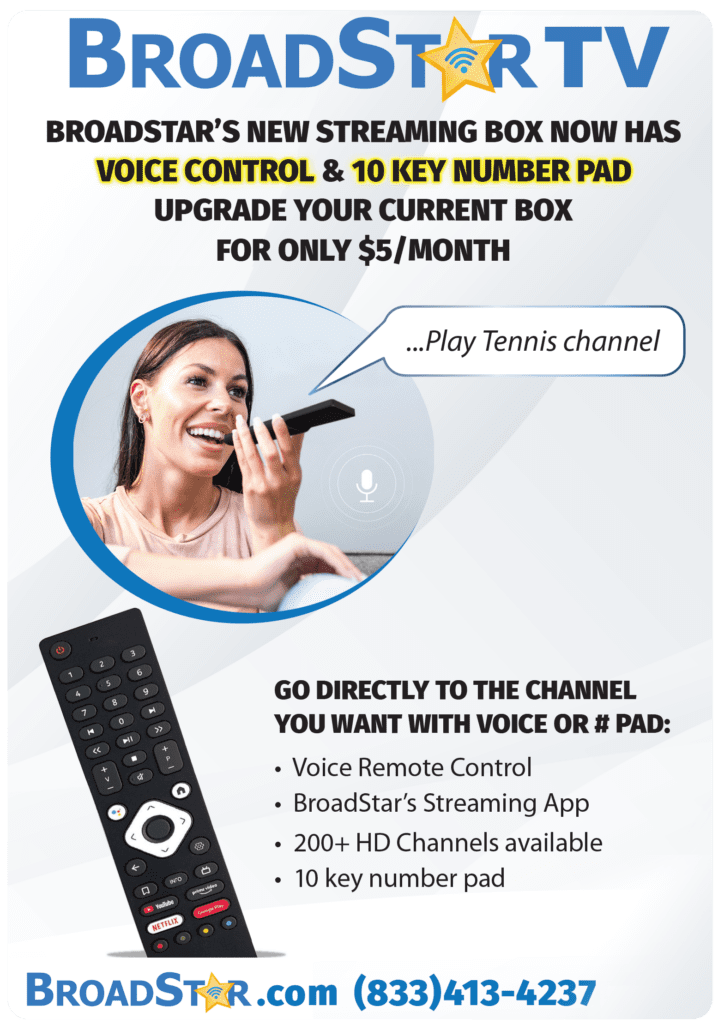 UPGRADE YOUR FIRESTICK TO A STREAMING BOX 
Voice Remote Control
Backlit Remote
10 Key Number Pad
BroadStar's Streaming App


price per month:
+$5
ADD EXTRA TV STREAMS & DEVICES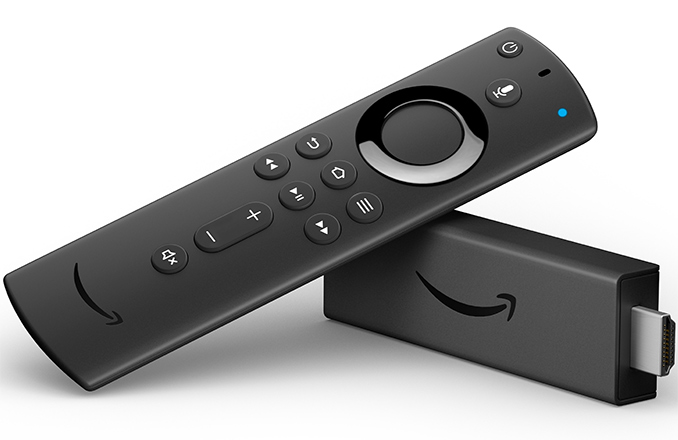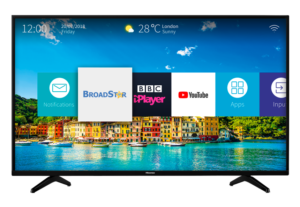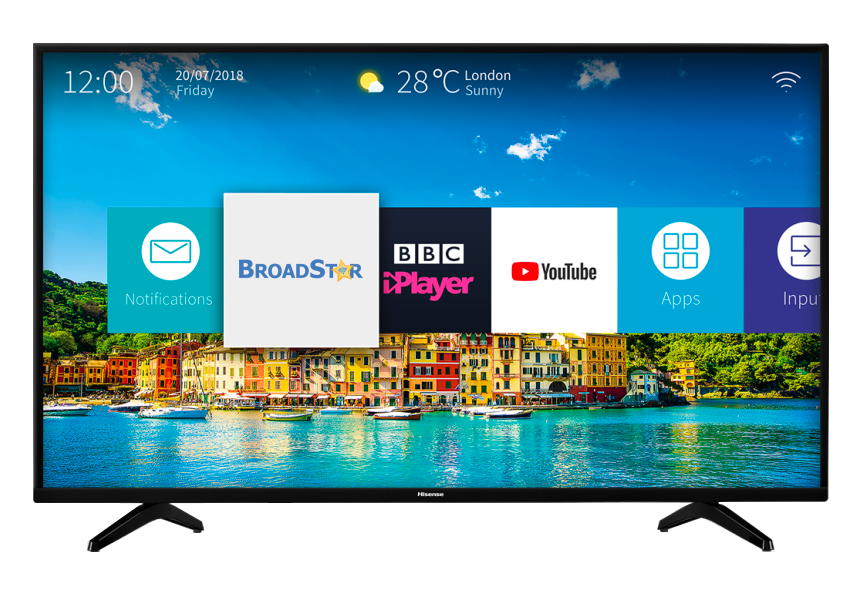 EXTRA STREAM &
4K FIRESTICK
Additional Stream
4K UHD Firestick Device
Firestick Remote
Concurrent Stream Ability
Cloud DVR Access
price per month:
+$10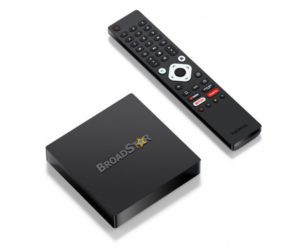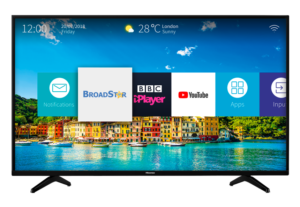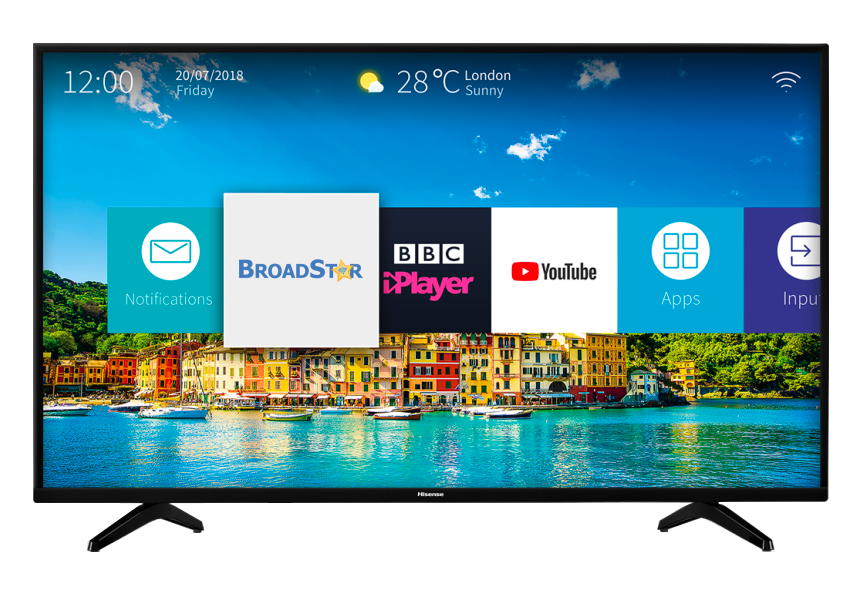 EXTRA STREAM &
BROADSTAR SET TOP BOX WITH BACKLIT 10-KEY REMOTE AND VOICE CONTROL
Additional Stream
BroadStar Streaming Device
10-Key Voice Remote
Concurrent Stream Ability
Cloud DVR Access

 
price per month:
+$15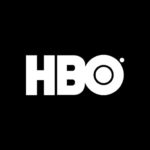 HBO Movie
Channels
HBO
HBO 2
HBO COMEDY
HBO FAMILY
HBO LATINO EAST
HBO LATINO WEST
HBO SIGNATURE EAST
HBO SIGNATURE WEST
HBO WEST
HBO ZONE EAST
HBO ZONE WEST
price per month:
+$17.00
SHOWTIME Movie
Channels
FLIX
SHOWTIME
SHOWTIME 2
SHOWCASE
SHOEXTREME
SHOFAMILY 
SHONEXT

SHOWOMEN

SHOXBET
THE MOVIE CHANNEL
THE MOVIE CHANNEL XTRA
price per month:
+$10.99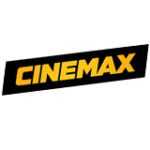 CINEMAX Movie
Channels
CINEMAX
ACTIONMAX
FIVESTARMAX
MAXLATINO
MOREMAX
MOVIEMAX
OUTERMAX
THRILLERMAX
INDIEPLEX
MOVIEPLEX
RETROPLEX
price per month:
+$13.00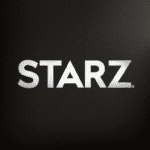 STARZ Movie Channels
STARZ
STARZ CINEMA
STARZ COMEDY
STARZ EDGE
STARZ IN BLACK
STARZ KIDS & FAMILY
price per month:
+$9.00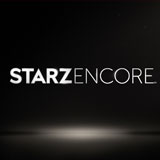 STARZ/Encore Movie Channels
STARZ ENCORE
STARZ ENCORE ACTION
STARZ ENCORE BLACK
STARZ ENCORE CLASSIC
STARZ ENCORE ESPANOL
STARZ ENCORE SUSPENSE
STARZ ENCORE WESTERNS
price per month:
+$9.00
Add 25 Hour
Cloud DVR Block
Additional 25 Hours
Multiple Blocks Available
6 Month Recordings
Access Remotely
price per month:
+$5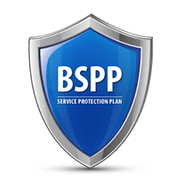 BroadStar Protection Plan
Avoid unexpected services charges if technical issues related to BroadStar equipment or wiring are identified by BroadStar's tech squad, rest assured it can be repaired at no charge.
price per month:
+$6.99
* All prices subject to change. VoIP Phone services require an active BroadStar Internet activation and a working home telephone. Internet speeds tested while using Wifi or mutiple devices may display slower speeds. Please contact a BroadStar Customer Service Representative with any questions or concerns.
FREQUENTLY ASKED QUESTIONS
What is the rate that the HOA is paying on our behalf?
This is a contractual item between BroadStar and your HOA, this question can only be answered by members of your current HOA Board. However, in 2021, your HOA board got the best (and lowest) package deal that is not available from any other provider with a great lineup and the fastest Internet in Florida!
Will our HOA fees increase?
Homeowners should receive information from the HOA concerning any change in fees.
What is BroadStar's Easement Agreement?
By its simplest definition, the Easement essentially provides BroadStar and its team with the right to access Real Property owned by someone else for a limited specific purpose.
Utility companies will traditionally have an Easement within their agreement. This is to allow their company access to their equipment on-site. For example, in order to cross your backyard to check on their equipment (water meter, power lines, etc).
In this case, BroadStar has a perpetual Easement for the purposes of installing, operating, and maintaining equipment and facilities reasonably necessary to provide cable, internet, telephone and other telecommunications services for the property.
May I opt out of one, or all, bulk services provided by BroadStar and avoid the HOA fee increase?
If you prefer not to use the bulk service you will still experience the HOA fee increase.
Why do you need my email address?
BroadStar will provision equipment for each unit using the email address provided. Absent an email address we are unable to install service in your home.
We are contractually prohibited from using your email address for purposes other than BroadStar specific service notifications and account related communications, and we will not release your email address or telephone number to any third party.
What internet service will we be getting?
Each home will receive a Fiber WIFI 6  Access Point  which will deliver up to one Gig hardwired to any device and two Gigs cumulatively. BroadStar's Internet speed exceeds that of all providers presently servicing your area.
Is there a monthly charge for the internet, and if so, what is the amount?
BroadStar's High-Speed Internet is included in your HOA fees, so you will not receive a separate invoice from BroadStar unless you add a subscription to one or more of our Premium Channel Packages, and/or additional BroadStar equipment. Additional Internet upgrades will be available in the near future.
Will the speed of up to 1GB be available to all of my devices?
Speed may be limited on older devices that cannot support up to 1GB. Some older devices have wireless cards in laptops, computers, and game consoles that can only receive up to 100Mpbs.
When performing a speed test on any device you should perform two independent tests. Using your internet browser please search "speed test" and select any pair of the most popular free internet speed measuring services. We typically use Speed Test by Ookla or Fast.com.
A hardwired ethernet connection should always be used to run speed tests. This will give the most accurate result of how fast your connection can be and Wi-Fi speed tests will always be lower.
Will the number of devices slow down my connection speed?
Your Fiber Wifi-6 Wireless Access Point is rated to handle over 40 devices within a home.  If you want to extend your internet service you may need to add a BroadStar WIFI Mesh Extender, which a tech can install in your home for a monthly fee.   
Is there a data limit, or slow down for high use residents?
You will not have a data limit, nor do we throttle residential services.
What TV service will we be getting?
Your HOA has selected America's Favorites as the bulk service, which includes over 200 IP video and music channels. IPTV is video service delivered over fiber optic connections producing the highest picture and sound quality possible. Additionally, advanced features such as DVR and replay ability are included:
You will have 50 hours of Cloud DVR storage
The Favorites content library
Live TV Replay
Upgrade options will be available for those interested in subscribing to additional premium programming options, including additional DVR recording time and channels not in the bulk line-up. 
How will "we" learn how to use the new video service?
We know change can be a bit scary to some and we will do everything to assist with the transition. Our team will be scheduled onsite in the future with products and a demo lab. Our technicians will assist you when placing the devices in your home. We also have US based call centers ready for your calls.
I am a

seasonal

resident, will I need to suspend my service when I am away?
You do not have to put your bulk service on vacation while you are away, since they are the bulk service. If you subscribe to upgrades, phone service or additional equipment you can put them on a vacation hold by going to this link found in Contact Us section:  https://www.broadstar.com/vacation  BroadStar offers both a 2 Year Agreement and a Month to Month package for services at your community. Residents who put their services on vacation hold are encouraged to use our Month-to-Month plan. Please be aware that re-activation of Month-to-Month services will incur a $69.99 Activation Fee each time they are turned back on.
What equipment is being placed into my home?
BroadStar will bring our fiber to the home and enter an exterior wall that they can connect to an integrated router.  One Fiber WIFI 6  Access Point will be installed inside your unit. These items work in tandem to provide both your internet and video services.
Each resident will receive 2 BroadStar Approved Streaming Devices (Amazon 4K Firestick).
I already have a Fire TV Stick, may I use that instead of a BroadStar Fire TV Stick?
Residents are able to use the list of BroadStar Approved Streaming Devices listed below:
Amazon Fire TV Stick 4k MAX
Amazon 4K Fire TV Stick
Amino Amigo 7x
I have a ROKU device, may I use that in place of the Fire TV Stick?
BroadStar service is not available with ROKU devices. You may continue to use your ROKU device as you do today, but will need a BroadStar Approved Streaming Device to access BroadStar Television service.
I have more than 2 televisions, what are my upgrade options?
BroadStar has additional TV Streaming Devices available for residents at an additional monthly charge, including the Amazon 4K Firestick and the BroadStar Streaming Set-Top Box. Additional approved streaming devices may be purchased from retail outlets, but additional concurrent playback streams will result in an additional monthly charge.
A Concurrent Stream is a Stream that can be played simultaneously with other active streams on your account with BroadStar. For example, if a member of your household is watching BroadStar channels in your living room, a Concurrent Stream can also be played at the same time while viewing different channels in another room.
However, if you were to purchase an additional approved IPTV Streaming Device via an external retail outlet for another television without activating a Concurrent Stream with BroadStar, device would allow for BroadStar viewing, as long as one of the 2 Concurrent Streams within your bulk contract was not also actively being played.
What video features are available?
Your HOA provides 50 hours of Whole Home Cloud DVR recording space. You are able to share the stored library between the devices in your home. You can record in one room and watch the program in another.
Can I increase the DVR Recording Space?
You may add additional 25 hours space as an upgrade for $5.00/mo.
Why don't I see BroadStar as a listed provider when downloading TV apps?
Some smart TV applications ask for you to choose your provider when downloading. BroadStar is not currently listed as a provider in these spaces, and is in the process of getting this resolved in the future. We will update everyone when that is available.  
How do we sign up for installation?
You can contact BroadStar by calling our call center representatives at 863-547-0229, this phone number is also listed at the top of this page. This installation requires access by BroadStar to install an Internet Access Point in each unit to an exterior wall, near an electrical outlet. The location shall be determined by BroadStar engineering and technical departments.
Any unit that does not provide access to install a fiber drop to the exterior of the residence by the end of the designated launch period ending on February 12, 2023, shall be charged an installation fee of $300/unit as it will require additional time and exterior work to connect your home to BroadStar's network. This amount shall be paid directly to BroadStar prior to installation of the Internet Access Point.  The Internet Access Point installation requires 2 technicians and should be requested two weeks in advance.  Any additional and/or custom work requested by the homeowner shall result in an additional invoice to the homeowner. BroadStar's basic installation charge is $69.99.