WELCOME TO BROADSTAR IPTV
Your BroadStar IPTV (Internet Protocol Television) delivers a more robust viewing experience than any traditional TV provider. Enjoy over 200 live HD channels you already know and love, and gain more control of how you watch your favorite content.
Catch Up with Live TV Replay, Record with Whole Home Cloud DVR, Select Programs and Channels as Favorites, Filter your Program Guide by Category, Select from Viewing History, and much more. BroadStar IPTV gives you the ability to truly customize your television viewing experience on your schedule.
Read below for an overview of the menus, functions, and capabilities now available with your new BroadStar IPTV account.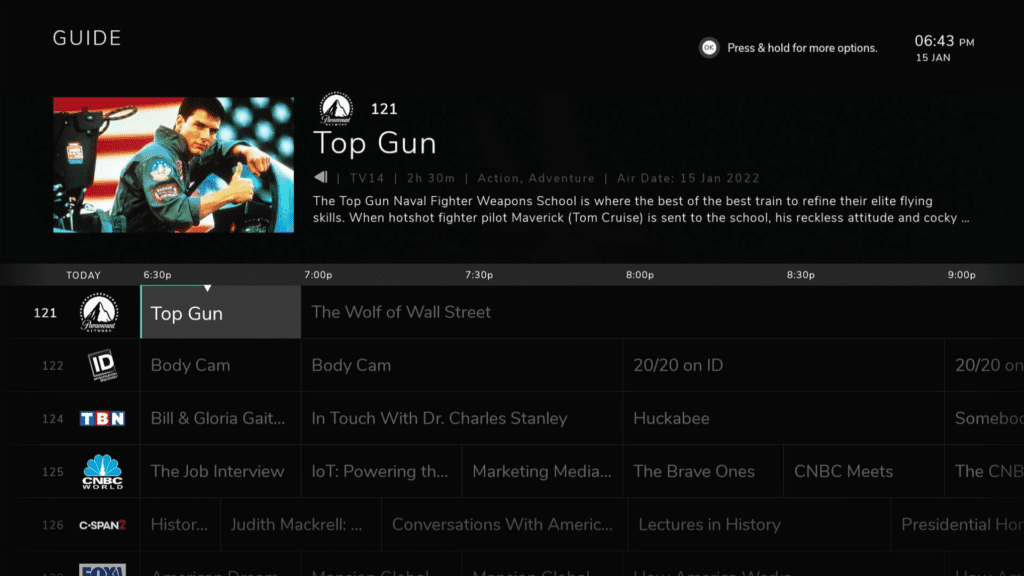 Your interactive programming guide is your home base for all of the content available within your BroadStar IPTV package. Search past, current, and future programming airing across all of your HD digital TV channels.
Accessing this menu during viewing is as easy as pressing the "Guide" button on your remote. For Amazon Fire TV device users, this will be your "3 Lines" button. The Main App Navigation can be accessed by pressing "Back" on your remote until it appears at the top of your screen.
Navigate "DOWN" and "UP" to view programming within a time-slot, "LEFT" until your channel logos move to the right of the screen for past programming, and "RIGHT" to view content airing in the future. Current and future programming will always show your channel logos on the left of your guide screen.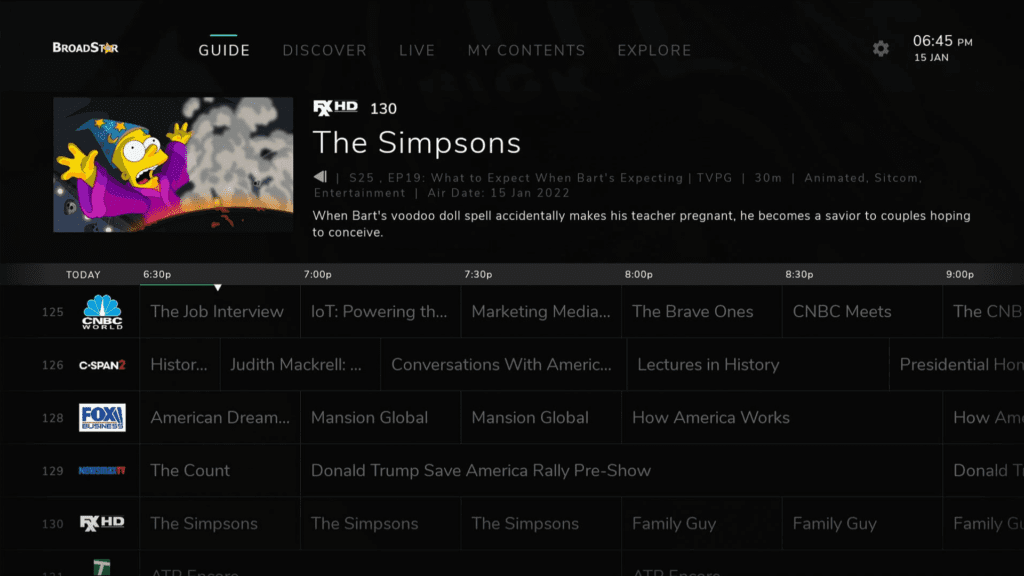 While hovered over any program within your interactive programming guide, you will see an option to "Press Select and Hold for More Options" next to the time and date. Follow this command to open the Guide Options Menu at the right of your screen.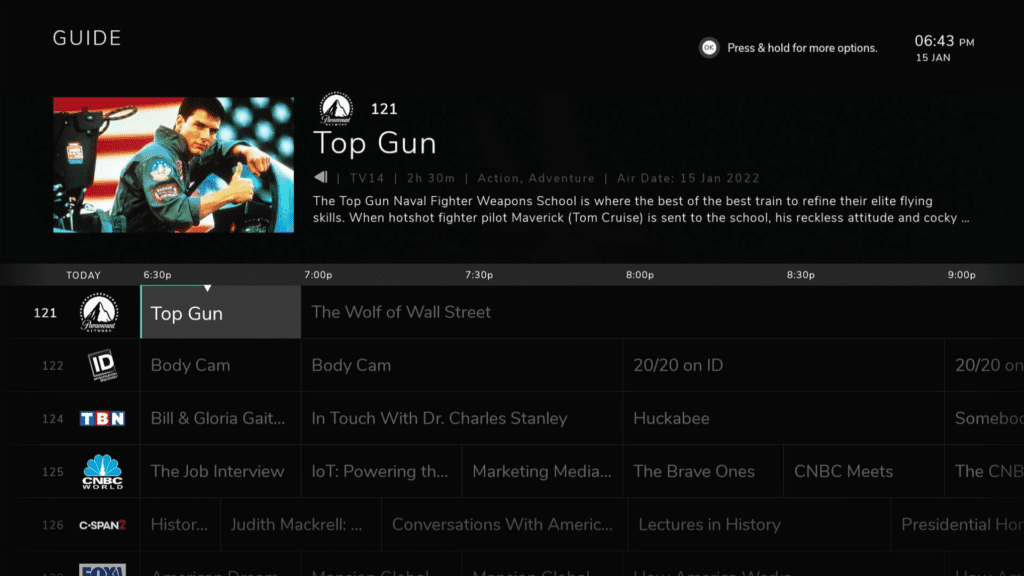 Within your Guide Options Menu, you will find two options. "Filter" is an option that allows you to create a custom guide view by program category. Selecting the "Filter" option will open a dropdown menu with all of the categories available to filter content by.
You can filter by your selected Favorites, Arts, Family, Kids, Sports, Movies, Music, and much more. Decrease the amount of surfing you have to do by filtering out what you aren't interested in watching. Find content you may have ignored by removing other options from your Interactive Program Guide.
Choosing the "Channel Entry" option will bring up your Manual Channel Number Entry Panel. For BroadStar Set-Top Box customers, you can use your 10-Digit Remote to key your channel numbers here. Amazon Fire TV streaming device customers can use the navigation wheel and "Select" button to key in their channel numbers as well.
When you have entered the channel number you desire to view, navigate to the "Checkmark" button on your screen and press "Select". You will be brought directly to the corresponding channel of the number you have entered for search.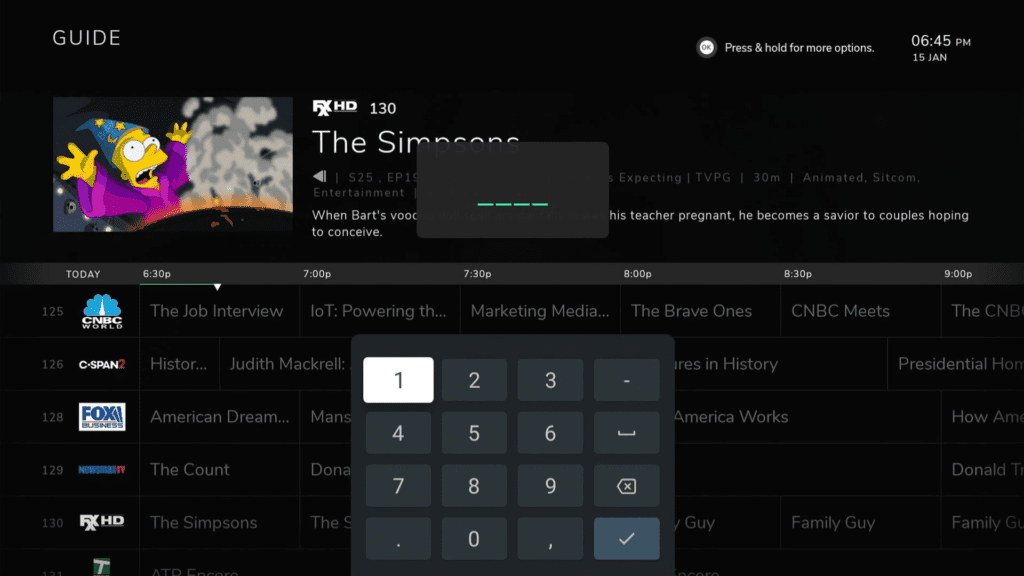 SELECTING YOUR PROGRAMMING
Pressing the "SELECT" button on any live programming will bring you to that program's Watch Menu. From this menu you can choose what you would like to do with your chosen program. "Watch", "Restart", "Record", and "Favorite" are all options available for every program within this menu.
Select the "Watch" option to begin viewing.
Select "Start from Beginning" if you would like to watch the program as if it just started airing.
Select "Record" to add this program to your DVR Library.
Select "Favorite" to add the program or channel to your custom favorites list.
A list of suggested content based on your current selection will also be available by navigating "DOWN" on this screen.
If you were previously watching a channel prior to shutting off your streaming device or leaving the BroadStar IPTV App, the live content on that channel will load upon the app opening next. The screen for an actively streaming channel can be seen in the second photo depicted.
Options for "Start Over", "Record", "Audio", "Closed Captioning", "Favorite", and "Info" are also available at the bottom by pressing "Select" while viewing to open this menu.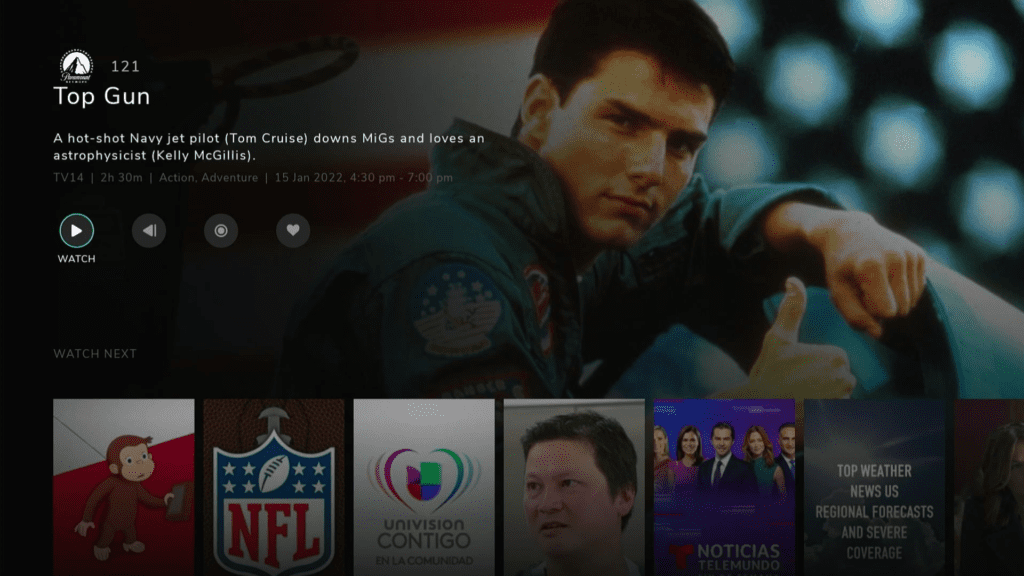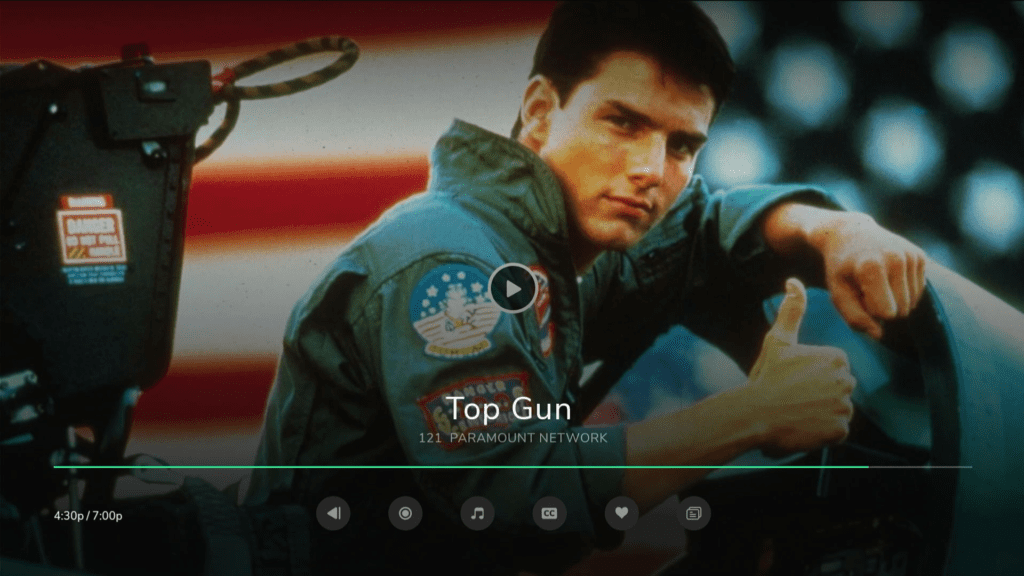 SEARCHING FOR PROGRAMMING
The "Explore" tab within your BroadStar IPTV App main navigation bar allows you to search all of your available programming. Navigate "DOWN" to the Search Bar, and press "Select" on your remote. A digital keyboard will appear on your screen, and you can enter terms associated with what you are looking for.
You can search content by Title, Actors, Actresses, Supporting Cast Members, and even general terms like "Football" or "Top". The programming that best fits your search criteria will be added to the results below as you are typing it.
When you have completed your search entry, toggle over to the Magnifying Glass Icon and press "Select". This will remove the digital keyboard, and allow you to navigate through the search results below.