Halloween 2023 TV Shows & Movies
Halloween 2023 is just around the bend, and BroadStar is happy to show you all of the fun and wicked TV and Movie events happening this year! As we prepare to get out and do some Trick-or-Treating again, check out some of the great holiday themed TV specials and movie marathons ready to keep both you and your family in the spooky spirit in the run up to this Halloween. Check out the schedule below, and tune in to the content that best fits the gremlins both big and small in your home. Happy Halloween!
Freeform will have its annual 31 Nights of Halloween with all kinds of fun Halloween programming like Hocus Pocus, Scared Shrekless, Addams Family Values, Hotel Transylvania, Zombies 2, and Little Shop of Horrors among many others. The Food Network will return in 2023 with new episodes of the Halloween Baking Championship, Halloween Cookie Challenge, Halloween Wars and The Big Bake: Halloween serving up their culinary takes on the Holiday. The Travel Channel will feature favorites like The Dead Files, The Ghost Town Terror, and Jack Osbourne's Night of Terror to fill up October with spine-chilling fun. AMC is rolling out its FearFest 2023 featuring Horror Classics like Halloween, as well as Halloween sequels like Halloween II, Halloween: Resurrection, and Halloween 4: The Return of Michael Myers, to only name a few. Other Horror Films featured on AMC FearFest in October include Rosemary's Baby, Misery, and Drag Me to Hell. While Turner Classic Movies will be churning out vintage creepy movies from way back throughout October like Dr. Jekyll and Mr. Hyde (1932), Frankenstein (1931), and the classic Freaks (1932) among many other classic films.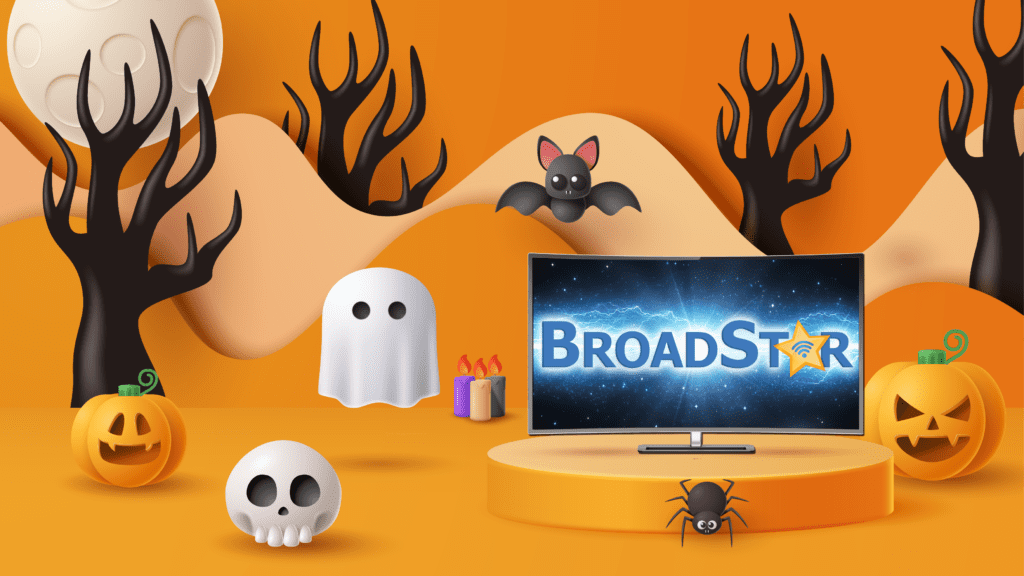 Not a Broadstar TV & Internet customer?​
2023 CHANNEL HALLOWEEN SCHEDULE
Sunday, October 1
7:00pm – Mickey and Friends Trick or Treats PREMIERE  Disney Channel
10:00pm – Jack Osbourne's Night of Terror SEASON PREMIERE  Travel Channel
Monday, October 2
10:30am – The Simpsons: Treehouse of Horror  Freeform
1:00pm – Twitches  Freeform
3:00pm – Twitches Too  Freeform
5:00pm – Shrek Forever After  Freeform
7:00pm – Hotel Transylvania  Freeform)
9:00pm – Hotel Transylvania 3: Summer Vacation  Freeform
Tuesday, October 3
8:00pm – Shadow of a Doubt (1943)  TCM
10:00pm – Dressed to Kill (1980)  TCM
Wednesday, October 4
9:00pm – Chucky SEASON 3 PREMIERE  SyFy
12:00am – Cat People (1942)  TCM
1:30am – The Hunger (1983)  TCM
3:15am – Frankenstein Created Woman (1967)  TCM
5:00am – The Wasp Woman (1960)  TCM
Thursday, October 5
10:00pm – The Dead Files (NEW Episode)  Travel Channel
Saturday, October 7
1:45am – Dr. Jekyll and Mr. Hyde (1941)  TCM
Monday, October 9
8:00am – It! (1967)  TCM
9:45am – The Mummy's Shroud (1967)  TCM
Tuesday, October 10
10:45am – The Death Kiss (1933)  TCM
12:15pm – Doctor X (1932)  TCM
1:45pm – The Walking Dead (1936)  TCM
3:00pm – The Vampire Bat (1933)  TCM
4:15pm – I Walked with a Zombie (1943)  TCM
5:30pm – Isle of the Dead (1945)  TCM
8:00pm – Cape Fear (1962)  TCM
11:45pm – From Beyond the Grave (1973)  TCM
Wednesday, October 11
3:15am – House of Dark Shadows (1970)  TCM
Friday, October 13
7:45am – Mark of the Vampire (1935)  TCM
9:00am – Night of Dark Shadows (1971)  TCM
10:45am – Death Curse of Tartu (1966)  TCM
12:30pm – The Curse of the Cat People (1944)  TCM
1:45pm – The Ghost Ship (1943)  TCM
3:00pm – Two on a Guillotine (1965)  TCM
5:00pm – Tormented (1960)  TCM
6:30pm – The Terror (1963)  TCM
8:00pm – Gaslight (1944)  TCM
Saturday, October 14
8:00pm – Halloweentown High  Disney Channel
Sunday, October 15
10:00pm – Jack Osbourne's Night of Terror (NEW Episode)  Travel Channel
Monday, October 16
8:00pm – Return to Halloweentown  Disney Channel
Wednesday, October 18
12:30am – Poltergeist (1982)  TCM
4:15am – Village of the Damned (1960)  TCM
5:45am – Children of the Damned (1964)  TCM
Thursday, October 19
4:00pm – Freaks (1932)  TCM
5:15pm – The Devil-Doll (1936)  TCM
6:45pm – Mark of the Vampire (1935)  TCM
10:00pm – The Dead Files (NEW Episode)  Travel Channel
Friday, October 20
8:00pm – The Nightmare Before Christmas  Disney Channel
Saturday, October 21
1:30am – The Haunting (1963)  TCM
Sunday, October 22
4:15pm – The Nanny (1965)  TCM
10:00pm – Jack Osbourne's Night of Terror (NEW Episode)  Travel Channel
Monday, October 23
12:30am – The Mysterious Island (1929)  TCM
Wednesday, October 25
3:30am – House of Wax (1953)  TCM
5:15am – House on Haunted Hill (1958)  TCM
6:30am – The Bat (1959)  TCM
8:00pm – Soylent Green (1973)  TCM
10:00pm – The Omega Man (1971)  TCM
Thursday, October 26
4:00am – The Awakening (1980)  TCM
10:00pm – The Dead Files (NEW Episode)  Travel Channel
Friday, October 27
8:00pm – Frankenstein (1931)  TCM
9:30pm – Bride of Frankenstein (1935)  TCM
Saturday, October 28
2:00am – Phantom of the Rue Morgue (1954)  TCM
3:30am – The Phantom of the Opera (1925)  TCM
5:00am – Dr. Jekyll and Mr. Hyde (1932)  TCM
Sunday, October 29
9:45pm – The Laurel-Hardy Murder Case (1930)  TCM
10:30pm – The Bowery Boys Meet the Monsters (1954)  TCM
Monday, October 30
12:00am – Dr. Jekyll and Mr. Hyde (1920)  TCM
6:00am – Chamber of Horrors (1966)  TCM
7:45am – Freaks (1932)  TCM
1:45pm – The Body Snatcher (1945)  TCM
3:15pm – The Seventh Victim (1943)  TCM
6:15pm – The Devil's Bride (1968)  TCM
9:45pm – The Devil's Own (1966)  TCM 
Tuesday, October 31  (Halloween)
4:45am – The Plague of the Zombies (1966)  TCM
6:30am – Rasputin–The Mad Monk (1966)  TCM
8:15am – Taste the Blood of Dracula (1970)  TCM
10:00am – The Mummy (1959)  TCM
11:45am – Creature from the Black Lagoon (1954)  TCM
1:15pm – The Invisible Man (1933)  TCM
2:30pm – The Black Cat (1934)  TCM
3:45pm – Frankenstein (1931)  TCM
5:00pm – Bride of Frankenstein (1935)  TCM
6:30pm – The Wolf Man (1941)  TCM
10:00pm – When a Stranger Calls (1979)  TCM
Wednesday, November 1
1:30am – Carnival of Souls (1962)  TCM
3:00am – Night of the Living Dead (1968)  TCM
4:45am – Spider Baby (1964)  TCM